Looking to invest in a table lamp for your late night studies? Well, there are plenty of options at your end. The basic illumination comes in the form of a floor lamp that would just require plugging into an electrical outlet. However, you can also opt for more luxurious variants that add texture, color, design, and a lot of variants to the illumination. Further, you can also choose among a variety of technologies, including table lamps with motion sensors, time controls, etc.
Small Modern Table Lamp
This table lamp provides the standard illumination but it is the stand that makes things interesting. Made out of wooden bars, it looks like a robotic structure and will always add to the creativity of the décor. This would be a lamp that should fit perfectly into any modern house.
Gold Modern Table Lamp
A very vintage looking table lamp, this comes with quite a heavy and intricately crafted base. Made of brass and gold finish, this would be the kind of table lamps one would like to add to his rustic home décor or a traditionally themed room.
Modern Glass Table Lamp
Another highly creative way for a table lamp design, a glass bottle serves as the base stand for the installation. You can even ask for a bottle with a live plant inside or opt for colored water to create a unique ambiance. This table lamp is okay to be placed anywhere in any house.
Crystal Modern Table Lamp Design
To make things a notch classier, the designer has been able to successfully integrate white crystals at various points in the stand of this table lamp. Complemented by fine textile serving as the curtain around the bulb, it could be a romantic addition to your white themed bedroom.
Modern Ceramic Table Lamp
Now, this would be a design that anyone would love for a table lamp. The base comes in a porcelain vase with colorful floral details while the head of the lamp engages a fine fiber curtain. Impeccably smooth and designed with finesse, this would be a lamp that would be an asset for a lifetime. You can also see Contemporary Table Lamp Designs
Modern Brass Table Lamp
The design for the table lamp in this case is simple but it still intrigues the onlooker. Made from brass and plated with gold, this classy lamp would be a great addition to your traditional study room. You can also see Pipe Lamp Designs
Modern Copper Table Lamp
In this case, the product comes as a teardrop shaped solid copper form that almost creates hypnotizing lines. The rich colors of copper create a warm look and will be a great addition to any cozy ambiance. Super charming and classy, it would be a buy of a lifetime.
Modern Geometric Table Lamp
Inspired from Deathly Hallow, this is a table lamp design that showcases the symbol of "The Master of Death" in its stand. The square head also creates a strong sense of intrigue and mystery. If you have been trying to achieve a unique mood, this lamp would be a perfect idea.
Modern Accent Table Lamp
In this case, the lamp stand comes in the form of a uniquely shaped bottle that can be said to bring both the elements of the vintage and the modern. The use of colored glass makes things even more interesting.
Minimalist Modern Table Lamp
Now, this is really cool! The lamp stand comes in the form of a circular band, supported perfectly by a heavy square platform. The lamp itself creates a warm light and would be a romantic addition to your bedroom.
Modern Globe Table Lamp
Small Modern Glass Table Lamp
Vintage Tulip Design Table Lamp
Modern Copper Brass Table Lamp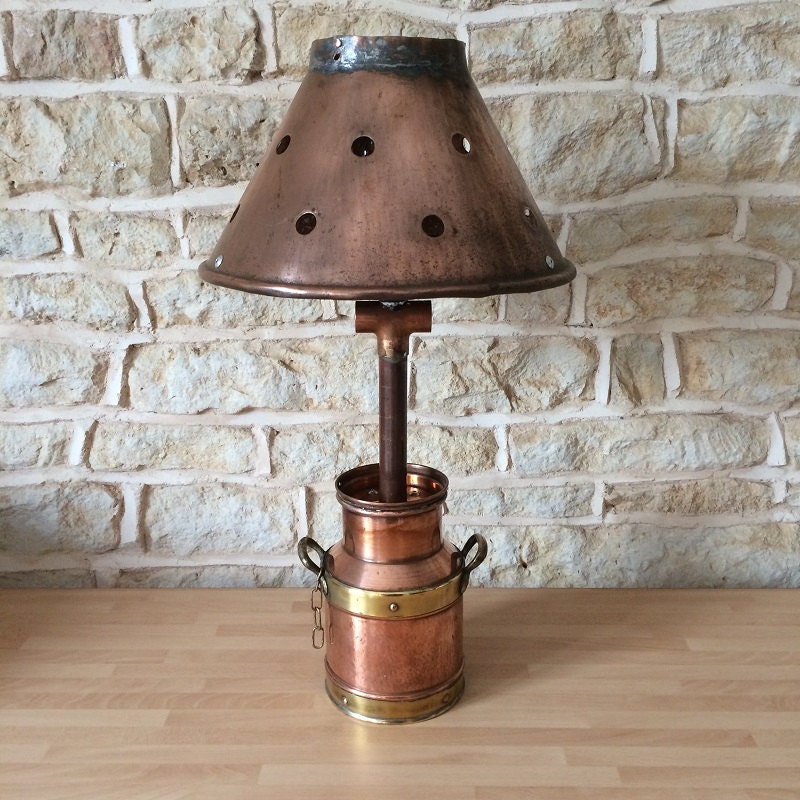 Modern Colorful Lamp Idea
From computer desk lamps to pendant lamps for your bedroom, the variety of designs can be overwhelming. However, these examples should give you the idea about what you must be looking for. We hope you choose something unique!